About 16% of deaths around the world today are being caused by cancer. This percentage is only going to increase and become more significant over time, due to overall population growth. According to the 2018 GLOBOCAN database, most countries of the world are facing an increase in the absolute number of cases being diagnosed and requiring treatment and care. Globally, nearly half of all new cases and more than half of the cancer deaths worldwide in 2018 are estimated to occur in Asia (60% of the global population). Europe accounts for 23.4% of the global cancer cases and 20.3% of the cancer deaths but has only 9.0% of the global population. The Americas have 13.3% of the global population and account for 21.0% of incidence and 14.4% of mortality worldwide. In contrast to other world regions, the proportions of cancer deaths in Asia and in Africa (57.3% and 7.3%, respectively) are higher than the proportions of incident cases (48.4% and 5.8%, respectively).
According to the IARC (International Agency for Research on Cancer), only one in five low- and middle-income countries have the necessary data to drive policy and reduce the burden and suffering caused by cancer and alleviate its impact on developing countries. While the burden of cancer is undeniably growing on all parts of the world, the less developed counties are taking a much higher burden than more developed countries (see image below).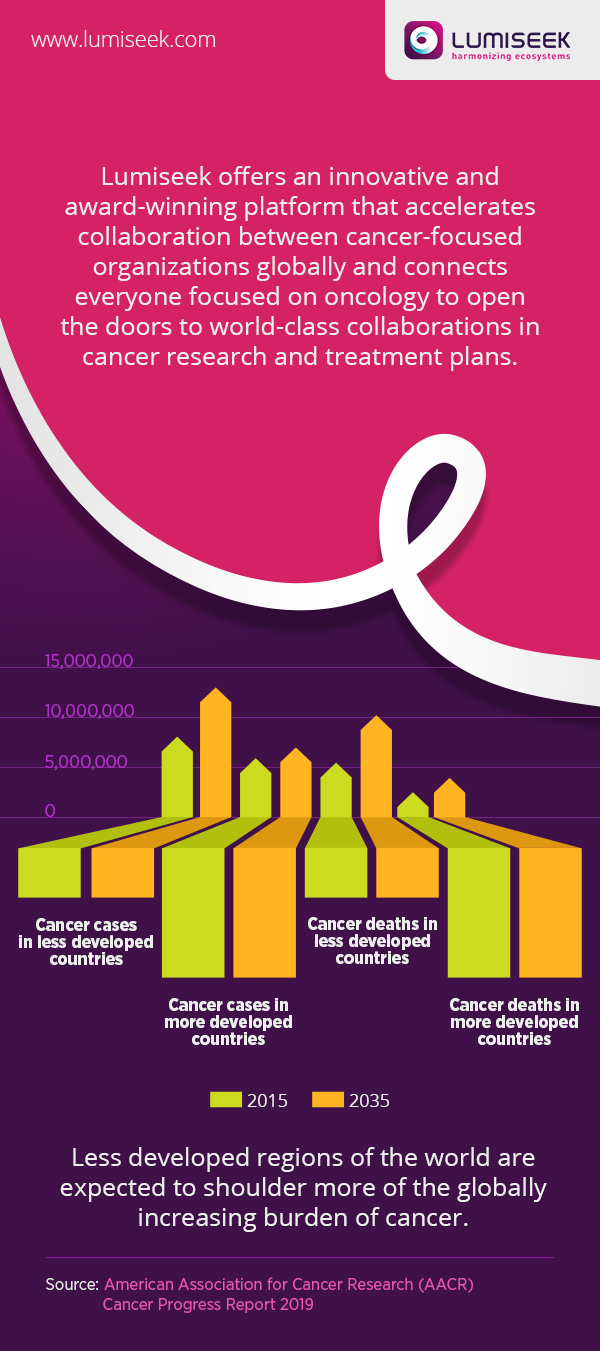 Cancer Management across the World:
The world is focused on driving down cancer incidence and mortality while simultaneously identifying more effective approaches to cancer collaboration to achieve cancer prevention, early detection, and treatment. The limited resources of low and middle-income countries are making this fight harder for them as they struggle to treat, cure and manage the growing number of their cancer patients. The cost of such cancer treatments and the loss of lives together prove detrimental to the economic development of these nations.   It is projected that in 2035, the number of cancer patients will have grown to 15 million according to the above report making this a threat apocalyptic in magnitude. There is a call for early countermeasures to ensure that these countries are equipped better to fight this battle with cancer  in the days to come.
Cancer registries are helping us to note the changing prevalence of certain causes of cancer linked to social and economic development and to double our efforts to prevent, treat and contain them. There's a pressing need to ensure that oncology studies, cancer research solutions and cancer control measures are shared globally and tailored to regional and national priorities. The occurrence of cancer, as well as the possibility of survival, are both seen to be stratified according to the standard of living available to the patients. There's a need for developed countries to support countries which are least able to meet the challenges posed by cancer.
How Lumiseek can Help:
Cancer interventions today are taking an environmental and lifestyle approach. The current levels of knowledge are translating to effective interventions in some countries, while in other countries, patients still succumb to the same type of cancer. As the potential to prevent, treat and cure cancer keeps growing with the ongoing efforts to fight cancer, there's a pressing need to bridge the gap between the developed and developing countries, through cancer collaboration and knowledge dissemination.
Lumiseek brings the cancer community an innovative and award-winning platform which accelerates collaboration between cancer-focused organizations across the globe. Everyone focused on oncology research or treatment can now be connected, to open the doors to world-class collaborations in cancer research and treatment plans.
With the Lumiseek platform, you can be assured of the following benefits as you redefine the way you collaborate with other cancer-focused organizations world-wide.
Search for relevant global expertise, information and resources
Create personnel directories within and across organizations
Manage a complex interplay of relationships between cross-disciplinary:

Departments/divisions
Other cancer focused organizations: Hospitals, start-ups, research organizations, biotech/pharma, regulatory agencies and allied professionals

Streamline communication between all parties using our real-time monitoring and tiered role-based privacy solution.
Access documents, information and third-party tools through a common dashboard.
Enjoy the continuum of relationship building, preliminary exploration and project organization and management abilities offered by Lumiseek to cancer organizations and cancer researchers. This highly user-friendly and intuitive system can simplify incredibly complex cross-organizational relationships and complement existing legacy systems for data sharing and storage. To learn more, email us at info@lumiseek.com.